Night of Museums 2016
Immagine: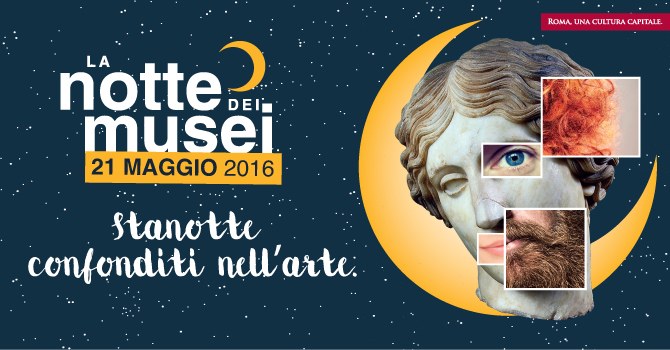 21/05/2016
Musei in Comune
Rome's Night of Museums is back on Saturday, May 21, 2016: the most important Civic and State Museums of the city will stay open in the evening from 8 PM to 2 AM (last admission at 1 AM). With a symbolic admission ticket of  € 1 (unless otherwise indicated) visitors will have access to museums and/or cultural spaces, visiting all the temporary and permanent exhibitions hosted therein, and attend concerts and live performances.
Information
Opening hours
From h. 20.00 to h. 02.00 (last admission h. 01.00)
Entrance ticket
€ 1,00*
*Free admission is valid only for children under 6 years old and disabled people and their carer.
Access will be totally free, as usual, in the small museums of Rome's Civic Museum Network: Museo di Scultura Antica Giovanni Barracco, Museo delle Mura, Museo Carlo Bilotti, Museo Pietro Canonica, Museo Napoleonico, Museo della Repubblica Romana e Memoria Garibaldina, and upon reservation by calling at +39 060608, at the Museo di Casal de' Pazzi. #NDMroma16
Information
tel  0039 060608 h. 9.00-21.00
Eventi correlati
Currently there are no ongoing activities.
There are no planned activities.
There are no archived activities.